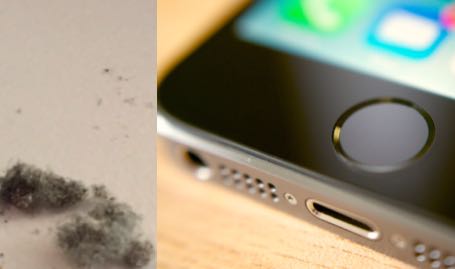 Your iPhone, which is just a paperweight if it is not charged, collects pocket lint in it's charging port and it builds up to eventually block the contacts to your charging cord, according to story identified as viral by Lead Stories' Trendolizer.
"You plug your charger into your iPhone but it doesn't seem to be recognizing the charger -- or if it does, moving your phone even slightly seems to cause it to disconnect and stop charging," the Business Insider report said.
It's such a common problem after a few months of carrying the iPhone around in your pocket. "Over time, that pocket lint gets packed into the corners and the sides of the charging port, causing the connection between charging port and cable to be blocked," the story said.
A new charging cord or a trip to the Apple store is not needed to fix this vulnerability.
You can dig the lint out with a paper clip, or perhaps better is to blow it out with an air duster can, like the one you use to blow out dust from your desktop keyboard.
You're welcome. Lead Stories' Trendolizer scours social nets for the hottest trending content about iPhone troubleshooting. Scroll down to see the latest.